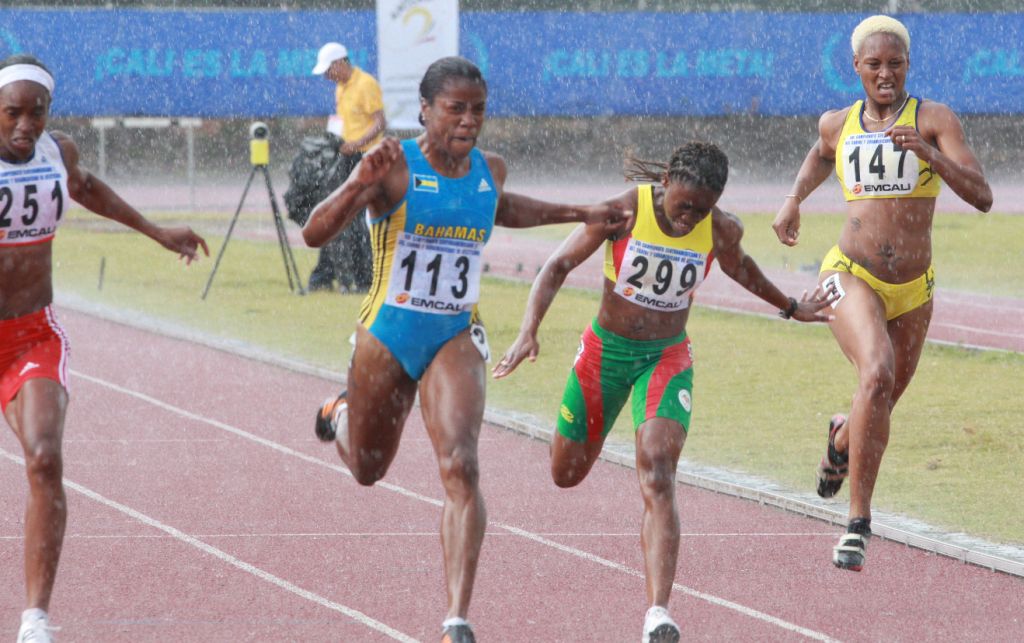 Cali COL - Although not displaying many of its best athletes, Cuba returned to the top of its region by easily taking the 21st edition of Central American and Caribbean Championships that ended at the "Estadio Pedro Grajales" in Cali on 6 July.

The Caribbean nation collected a total of 17 gold medals – 9 in the final day – to top the table ahead of Trinidad & Tobago, which produced a remarkable second place – best ever – with 8 victories and a total of 13 medals. Colombia, the host, was third 6 first places and a total of 24 medals.

Most of the last day of competition was affected by torrential rains.

Wilfredo Martínez jumps 8.31

The most outstanding performance of day three was that of long jumper Wilfredo Martínez, who flew to 8.31m (wind 1.6) to capture the gold and set a new championship record. The 23-year-old Cuban, eighth at the 2008 World Indoor Championships, took the lead on his first jump (7.93), then had a foul, to finally record 8.31 – a PB – in round three. Later, he had two good jumps (8.14, 8.04), to end the contest with 7.43.

Martínez became the first Cuban to win this title since legend Iván Pedroso accomplished the feat in San Juan, Puerto Rico, in 1997.

Andy González adds a title to his 2008 collection

The 800m is another event with tremendous tradition in Cuba, and to the great form we are seeing from Yeimer López, 1:43.07 this season, we must now add 20-year-old Andy González, who in Cali took the gold with 1:46.11.

González, who this season has already collected the "Iberoamericano" title in Iquique, Chile, set a Championship record erasing the 1:46.51 mark set by compatriot Norberto Téllez in 2001. The Cuban runner, with a PB of 1:45.3 set on 13 March in Havana, beat Venezuelan Eduard Villanueva (1:46.92) and Mexican Pablo Solares (1:47.18).

Hammer record by Candice Scott

One of the victories of the day for Trinidad & Tobago was produced by hammer thrower Candice Scott with a 69.26 toss – a new Championship record – which was good enough to beat 2004 Olympic bronze medallist, Cuban Yunaika Crawford who managed 69.03.

The final result ended up being a copy of one registered in the last CAC Championships in 2005 in Nassau, where Scott also beat Crawford (67.44 to 66.75). In Cali, Scott was able to seal her victory in the second round, while Crawford had a very consistent series (67.52, 68.70, 69.03, 68.09, 68.42, 68.20), but was unable to match the performance of the 27 year-old from Trinidad and Tobago. Colombian Eli Johana Moreno completed the podium with a NR of 67.09.

Season's best for Debbie Ferguson

2001 World champion and 2004 Olympic bronze medallist at 200m, Bahamas' Debbie Ferguson, won her first gold medal at the CAC Championships by taking the victory in a season's best of 22.78 (wind 0.3) under a heavy rain. Curiously, the triumph is also the first one for Bahamas at this distance in the CAC.

32-year-old Ferguson, just coming from winning the national title of the Bahamas, dominated Cuban Roxana Díaz (SB of 22.82) and Colombian Darlenys Obregón (SB of 23.13).

Relays for Cuba

Both 4x400 relay races were taken by Cuba, although the male victory was more valuable.

The women's team, already in the top list which qualifies for the Beijing Olympic Games, obtained the first place in 3:27.97.

The men's ran 3:02.10, a time that should place them among the 16 top nations in the world, which would enable the Caribbean nation to compete at the Beijing. The remarkable victory of was obtained by William Collazo, Yunier Pérez, Omar Cisneros and Yeimer López.

In 2009, Havana, Cuba, for its third time, shall be the host of the next edition of the CAC Championships, which will return to be staged every two years. The next CAC Junior Championships, also to be contested biennially from this point, will be in 2010 in the Dominican Republic.

Click here for RESULTS

Results – 6 July

Men

200m (0.5)

1 Emanuel Calender TRI 20.69

2 Ronder Sorillo TRI 20.71

3 José Eduardo Acevedo VEN 20.79

800m

1 Andy González CUB 1:46.11 *

2 Eduard Villanueva VEN 1:46.92

3 Pablo Solares MEX 1:47.18

5000m

1 Isaías Haro MEX 14:35.81

2 Jhon Tello COL 14:41.21

3 Javier Guarín COL 15:10.58

3000m Steeplechase

1 José Sánchez CUB 8:53.24

2 Alexander Greaux PUR 9:12.70

3 Yovanny Adames DOM 9:15.72

HJ

1 Víctor Moya CUB 2.25

2 Trevor Barry BAH 2.25

3 Jamal Wilson BAH 2.13

LJ

1 Wilfredo Martínez CUB 8.31/1.6 *

2 Herbert McGregor JAM 7.90/0.6

3 Tyrone Smith BER 7.80/0.0

SP

1 Alexis Paumier CUB 19.60

2 Manuel Repollet PUR 18.43

3 Jiovanny García COL 17.70

HT

1 Noleisis Bicet CUB 71.61

2 Luis García MEX 65.68

3 Raúl Rivera GUA 64.58

JT

1 Anier Boué CUB 74.98

2 Dayron Márquez COL 74.37

3 Jhony Viáfara COL 71.07

4x400m

1 CUB 3:02.10

2 BAH 3:02.48

3 TRI 3:04.12

Women

200m (0.3)

1 Debbie Ferguson BAH 22.78

2 Roxana Díaz CUB 22.82

3 Darlenys Obregón COL 23.13

800m

1 Rosibel García COL 2:05.9

2 Sheena Gooding BAR 2:06.6

3 Cristina Guevara MEX 2:07.2

5000m

1 Nora Leticia Rocha MEX 16:41.27

2 Berta Sánchez COL 16:43.82

3 María Isabel Montilla VEN 16:53.42

HT

1 Candice Scott TRI 69.26 *

2 Yunaika Crawford CUB 69.03

3 Eli Johana Moreno COL 67.09 NR

4x400m

1 CUB 3:27.97

2 MEX 3:29.94

3 BAH 3:35.57

* Championship record

(Photo by Fernando Neris)